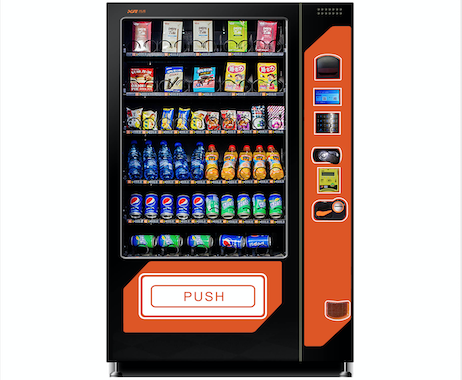 Specification
XY Combination Vending Machine is one of our best selling product. Not only the colour and outlook of the machine make an elegant decorations to the business, but also the sizes of machine make it a great fit into places like shopping malls, car parks, schools, offices, outdoors, the choices is yours.
What's more, all XY vending machines are great value for money. Comparing with other more expensive models, XY combination vending machine has very comparable quality and is your best option for budget.
FEATURE
Guaranteed dispense system: drop sensor to detect successful or failed delivery for instant refund
Good product display: large heated double glazed door with LED lighting.
High capacity: can store 300-800 products, high capacity can-tray (optional) can hold up to 110 cans per tray
Easy to use: stainless steel backlit keyboard with numeric push button, and blue screen for active scrolling text.
Perfect insulation: injected polyurethane foam insulation
Slide in/slide out cooking unit
SPECIFICATION
DIMENSION: 1920x1150x855mm
WEIGHT: 350 KG
ELECTRIC SUPPLY: 110-230V, 50HZ-60HZ
DELIVERY METHODS: Helix tray
PAYMENT METHOD: Allipay/Wechat pay, other MDB compatible payment system
REFRIGERATION: R134a refrigerant gas. 1/2 HP compressor. Automatic defrosting control
Optional:
– GPRS remote control for checking sales data, stock, etc.
– 8 inches LCD screen, for tailored messages, special offers and important announcement.
– High capacity can-tray.
– 7 tray wirings.
– Universal wheels.
– Alarm system.